We all can agree that we want to look good when carrying a laptop around campus and through the office hallways. Besides that, we want to get laptop bags designed to offer enough space to carry and organize all necessities for fast and easy access. However, selecting a laptop backpack isn't as easy.
In fact, the task gets even harder when you need to narrow down to the best waterproof backpack, given the range of choices availed for you to select from. To help you with the task, we did some research and narrowed down to the top 10 best water-resistant laptop backpacks in 2022.
When selecting these products, we paid attention to factors such as multiple pockets, waterproof materials, durability, ergonomic shoulder pads, strong zippers, as well as breathable and supportive back support. Moreover, we narrowed down to backpacks with special features such an anti-theft pocket, USB charging ports, and a headphone plug. Keep reading with the hope of locating a laptop backpack designed to meet your needs effectively.
List of the Best Water Resistant Laptop Backpacks of 2022:
10. YOREPEK Travel Laptop Backpack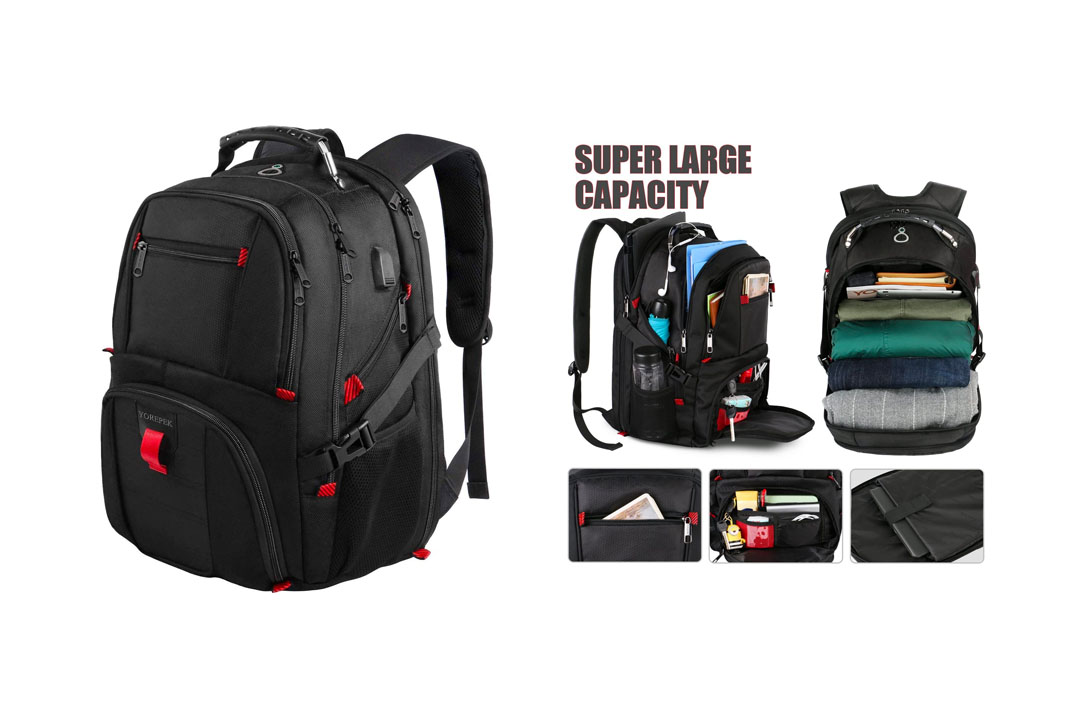 An ideal backpack for high school or college students is Yorepek's Travel Laptop Backpack. Designed for the organization of small and large items, the bag includes 20 independent pockets. The pockets are organized into three spacious main multi-compartments. These compartments pack a variety of hidden pockets enabling you to organize stuff such as college supplies, clothes, travel accessories, among others.
Besides that, there is a deep side pocket designed for easy access essentials. Also, there is a side elastic net pocket that holds umbrellas or water bottles. The bag is TSA approved. It unfolds with a lot of ease from 90 to 180 degrees enabling you to move fast through the airport security.
You can keep your electronic devices charged when traveling, thanks to the external USB port that features a set-in charging cable. Furthermore, there is a headphone hole on the outside designed to offer easy access for earphone usage. The laptop backpack includes a separate padded laptop compartment to ensure the safety of your laptop or MacBook.
The bag is made using high-quality polyester fabric and features a high-density nylon lining. Because of this, you can get it as the answer to a backpack that is designed to last. Furthermore, it features a back U-shaped three-dimensional ventilation design. This means that you can expect it to keep your back cool and dry after hours of carrying. There are wide, padded, and breathable mesh shoulder straps designed to relieve the stress from your shoulders are another plus designed to enhance comfort further.
9. Estarer Computer Backpacks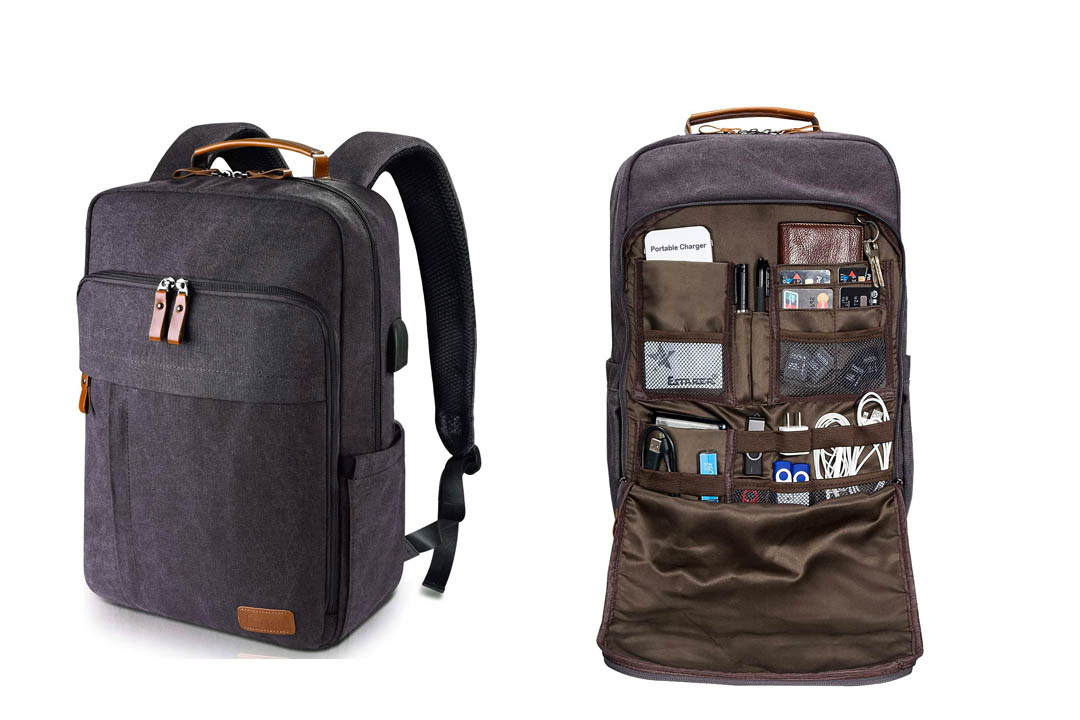 Travel with a lot of ease once you organize your accessories in this backpack. Convenient in design, the bag includes a built-in charging cable and a headphone hole. The charging cable offers convenient charging of phones while the headphone hole allows you to connect a headphone so that you can enjoy music on the go.
Also, there are a variety of pockets. These comprise a 15.6″ shockproof laptop compartment, one mesh pocket that allows you to organize small things, one iPad slot, and two small pockets. Additionally, there two elastic pockets that hold a water bottle and an umbrella. The zipper pocket located on the back of the bottom is another plus designed to keep valuables in a hidden position.
The bag can hold clothes, A4 files, and books, thanks to the large middle compartment. Furthermore, it can organize small stuff since it includes a front compartment featuring separated slots for small accessories. The backpack is made using a water-resistant thick canvas to enhance strength. It includes adjustable mesh padded shoulder straps designed to ease shoulder pressure. The back features a breathable design to ensure comfort by maintaining a back that is free of sweat.
8. Laptop Backpack 17.3 Inch, BRINCH Water Resistant Travel Backpack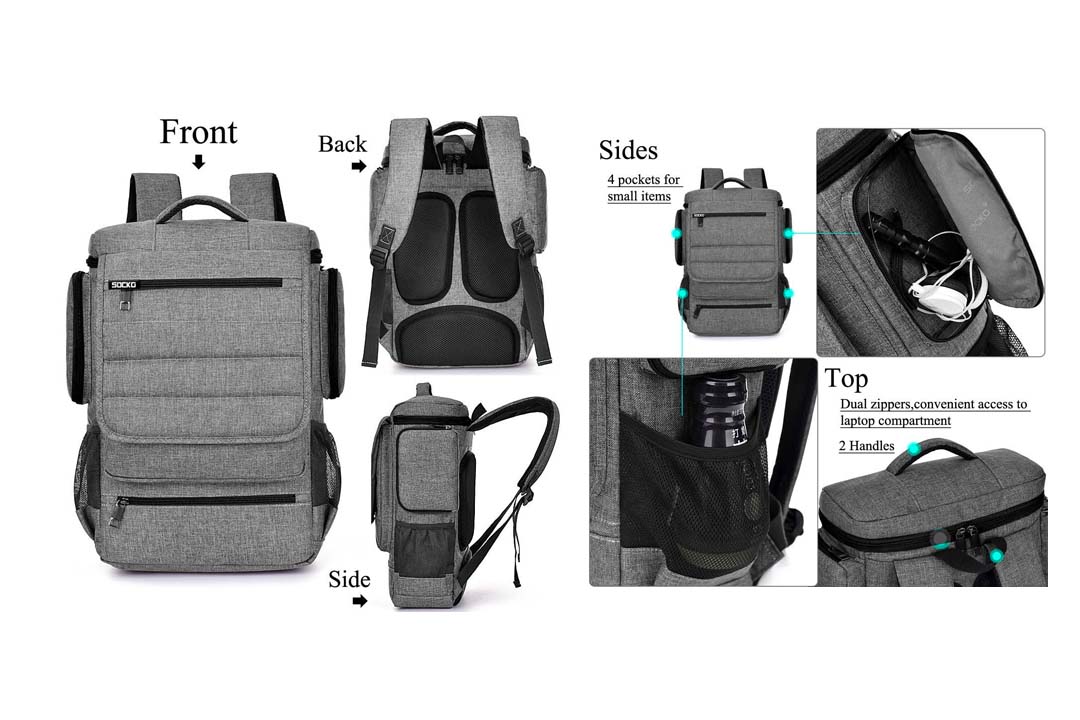 Organize a range of items while traveling, once you get Brinch Water Resistant Travel Backpack. The pack features a stylish design making it suitable for a variety of uses. It includes an excellent stitching and an anti-tear, water-resistant fabric to assure you of getting a laptop backpack that is designed to last.
The backpack is designed with comfort in mind, thanks to the airflow back system that protects you from accumulating sweat. Also, it features sturdy adjustable shoulder straps and a soft mesh foam padded handle to enhance comfort when carrying. The pack includes a main compartment featuring a unique top zipper access so that you can use it to store your necessities safely.
Adding to that, it includes a built-in laptop sleeve padded using a soft thick foam so that it can hold laptop up to 17.3″ safely. Two elastic mesh pockets are another plus of the bag designed to let you store an umbrella and water bottle. Also, there is an elastic hook and loop strap closure that enables the bag to hold the laptop in place to guarantee its safety.
Also Read:
7. Bopai Intelligent Increase Backpack and Anti-Theft Laptop Rucksack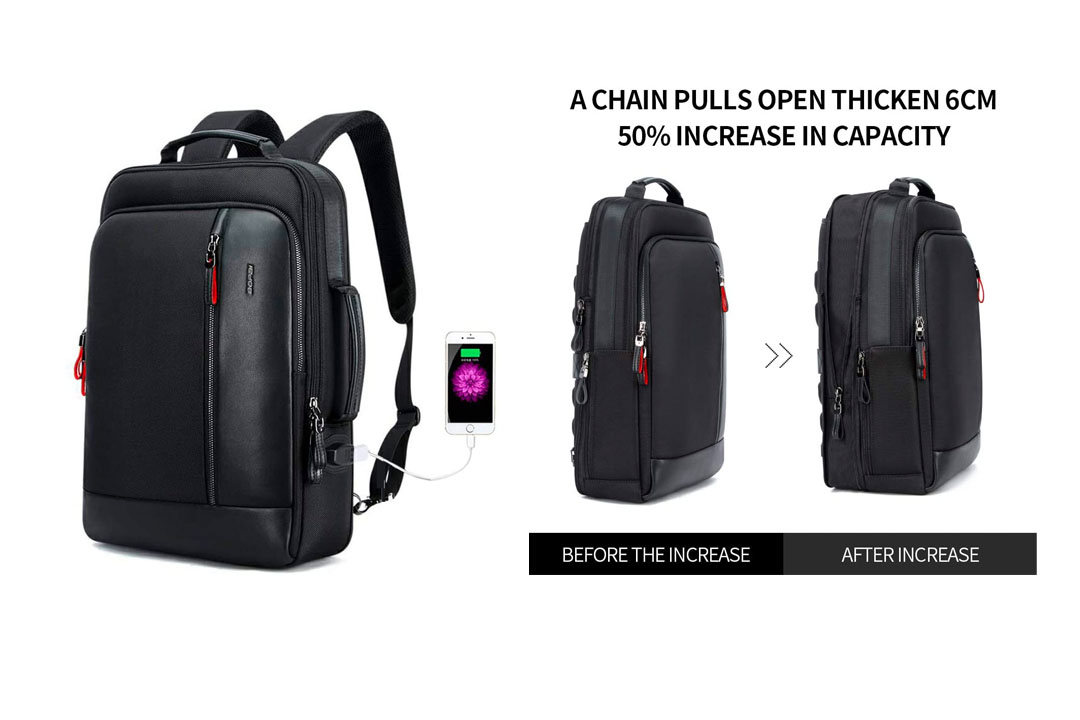 If you are looking for a stylish laptop bag designed to suit your daily needs, I would like to recommend this as one of the best waterproof laptop backpacks. The pack features an attractive shape making it suitable for use in a range of events. Plus, it offers an extra 50% space and features a smooth zipper on the backside so that you can access the space with a lot of ease.
The pack features a back sleeve design so that you can slide it over the luggage handle to enhance easy mobility. It includes an invisible zipper pocket so that you to place your necessities in a safe place. The bag is made using water-resistant microfiber leather and ballistic nylon materials to enhance durability. It includes an external charging port designed to keep your phone powered, and a laptop compartment lined with soft flannel to guarantee the safety of a laptop up to 15.6″.
6. Business Travel Backpack, Matein Laptop Backpack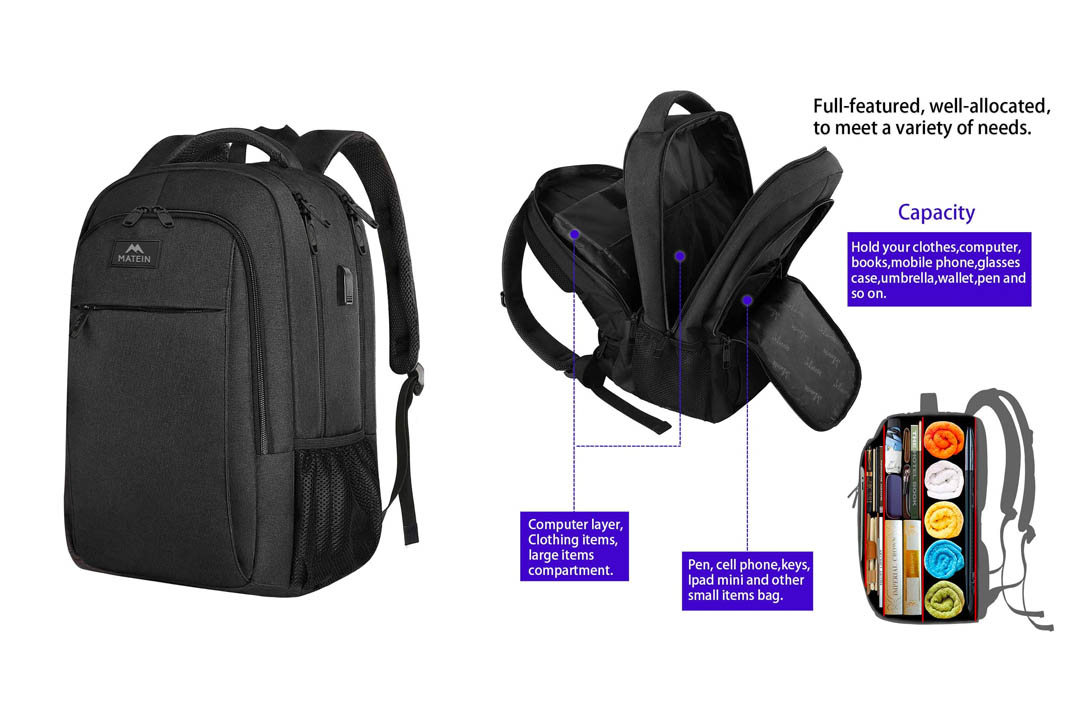 Are you looking for a laptop backpack for traveling? Whether it is for use in the office or school, Matein Laptop Backpack is an ideal choice. Durable in design, the pack is made using wear-and-tear-resistant polyester, and metal zippers. Plus, the backpack includes a foam padded top handle designed to deliver comfort after hours of carrying.
Besides the top handle, there are custom-fit padded shoulder straps to ensure comfort by relieving the stress off the shoulders. The back includes a lot of padding to provide maximum back support. Additionally, it features a multi-panel ventilated padding so that you can be sure to maintain a back that is free of sweat.
The bag packs a range of pockets to ensure easy organization of different items. Among the included pockets is a spacious main compartment designed to fit a range of travel accessories and school supplies. Also, there is a front compartment that provides for a key fob hook to ensure easy organization of small items.
The mesh pocket is another addition designed to hold a water bottle and compact umbrella. In addition, there is a laptop compartment designed to fit 15.6″ laptops or MacBooks. The built-in USB charger and charging cable are other pluses designed to let you charge your smartphone when traveling.
5. School Backpack, Vaschy Unisex Slim Lightweight Water-resistant Backpack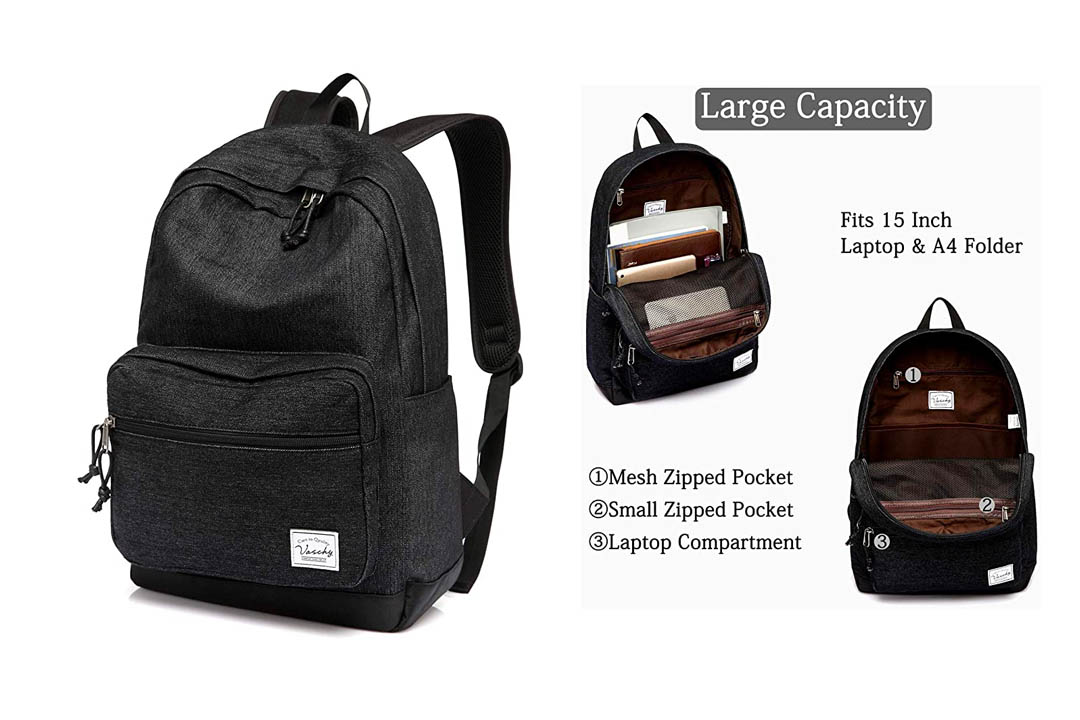 Are you looking for the best water-resistant casual school backpack? If so, this is the best backpack. It features a slim classic silhouette that makes it casual. Plus, there is an adjustable shoulder strap which makes it suitable for use by people of different heights.
The pack features leather pulls on the zippers and SBS zippers enabling them to slide smoothly. It is made using a quality polyester and includes a reinforced bottom and great detailing, making it a perfect choice to a backpack that is designed to last.
You can get the backpack when looking for a bag that is easy to organize, thanks to the various compartments. Specifically, the pack includes a main compartment for holding heavy books and clothes and a padded laptop compartment. Also, there are four interior zipper pockets, an anti-theft back pocket, an exterior zipper pocket, and two water bottle pockets.
4. Tocode Water Resistant Laptop Backpack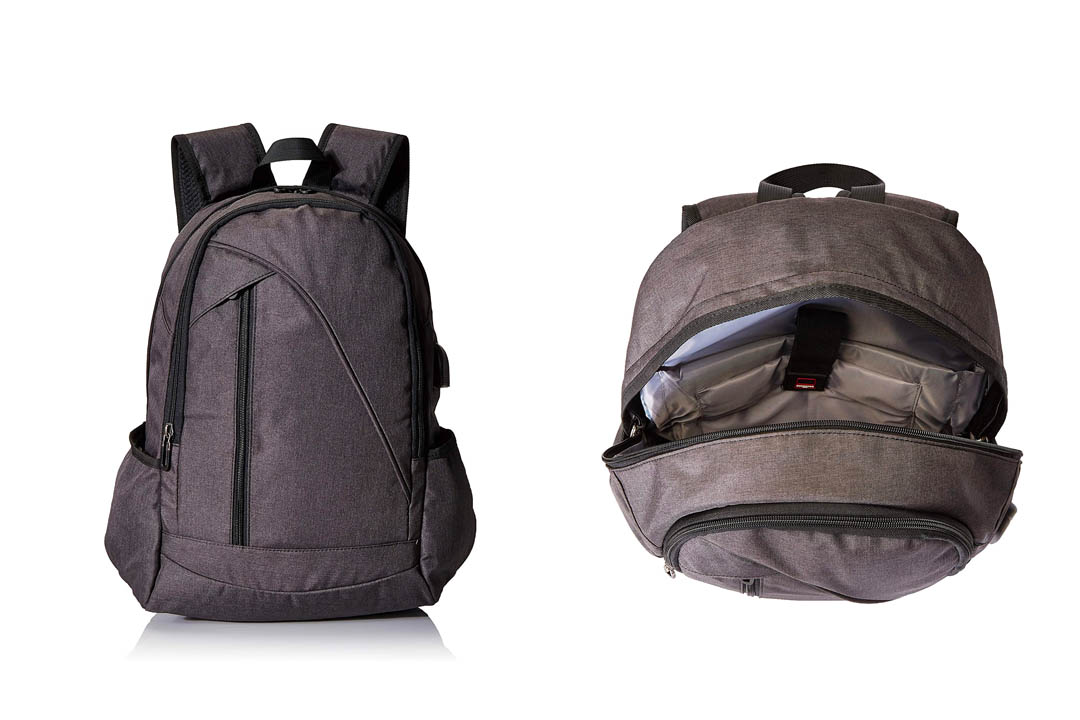 Carry your laptop and accessories with a lot of ease whether you are going to school, a business trip, or camping with this water-resistant backpack. The bag is made using a heavy-duty and water-resistant oxford fabric to enhance durability and sturdiness. Besides that, there is a water-resistant polyester designed to keep your items dry.
You can expect the backpack to provide enough room to organize different items, thanks to the 17 compartments. In particular, there is a dedicated laptop sleeve in the main compartment that holds a 17″ laptop. Additionally, there is an anti-theft pocket designed to hold several valuables, such as passports, wallet, keys, or phones.
The bag boasts thick padded straps to enhance comfort when carrying. Also, there is a breathable pad that forms a suspension system to protect the back from discomfort. The internal cable inside the bag is another plus so that you can plug your charging cable when you need to charge your phone. Also, there is an external earphone port to ensure that you are connected to music without the need for opening the bag.
3. KOPACK Lightweight Laptop Backpack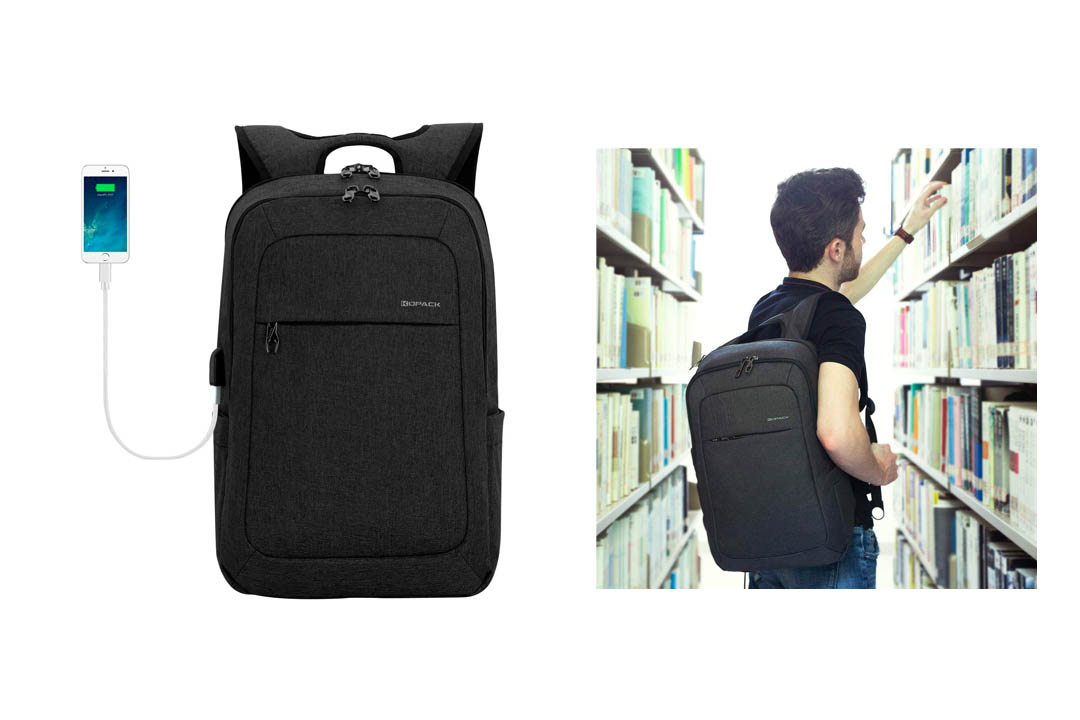 Are you looking for a durable and lightweight backpack designed for daily use? If that is the case, this is a great choice. The bag features a laptop compartment located behind the straps. This design allows you to locate the laptop with a lot of ease without showing personal items.
Adding to that, there is a zipper that locks to a D-shape ring. This allows you to lock the laptop in the compartment to guarantee added safety. The backpack offers 17 slots making it easy for you to organize different accessories. It includes S-shape padded shoulder straps so that it can relieve the pressure off the shoulders.
The pack is made from high-elastic and breathable fabric and sponge to guarantee support after hours of carrying. The shoulder straps feature adjustable lengths, which makes it suitable for use by the tall and short. You can expect the bag to last for years, thanks to the tear-resistant and water-resistant Oxford.
Plus, the backpack is designed to ensure the safety of your belongings since it features anti-puncture four tooth zippers on the main compartment and lockable zippers. Another bonus is an external USB port that features a cable to ensure convenience when charging your smartphone, tablet, or other devices.
2. Tzowla Business Laptop Backpack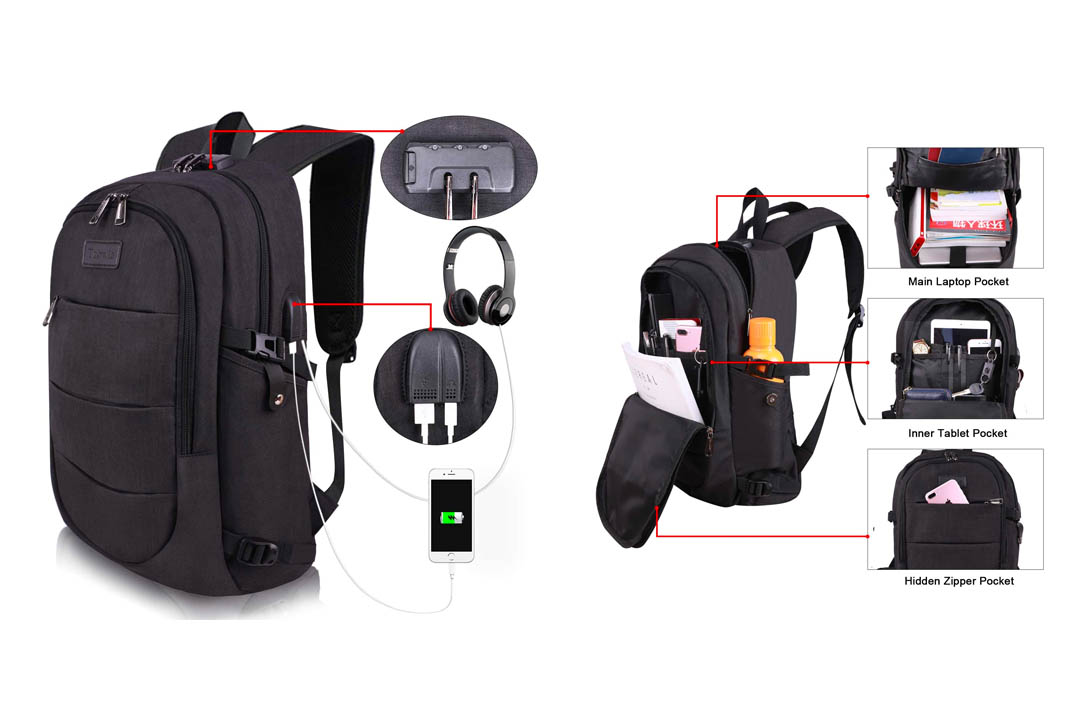 The perfect companion for trips, business, or college is Tzowla Business Laptop Backpack. The backpack is designed for use by women and men, where it is designed to hold a laptop that is 15.6″ in length. Besides carrying a laptop, it can hold a range of other accessories, since it includes multiple divider pockets designed to keep your things organized.
The backpack further includes an anti-theft fixed combination lock. Because of this, you can be sure to have it protect your valuable items. You can charge your smartphone when using the backpack. The reason is its USB interface that includes a built-in cable designed to enhance convenience when charging electronic devices.
Furthermore, there is a headphone interface that you free your hands when listening to music. The backpack is made using high-quality water-resistant polyester fabric. This fabric is strong and resistant to water, which means that the bag is durable and great for outdoor use. Additionally, there are comfortable wide, padded shoulder straps so that you can carry the bag for hours with an assurance of comfort.
1. TSA Friendly, Swissdigital Water-Resistant Large Backpack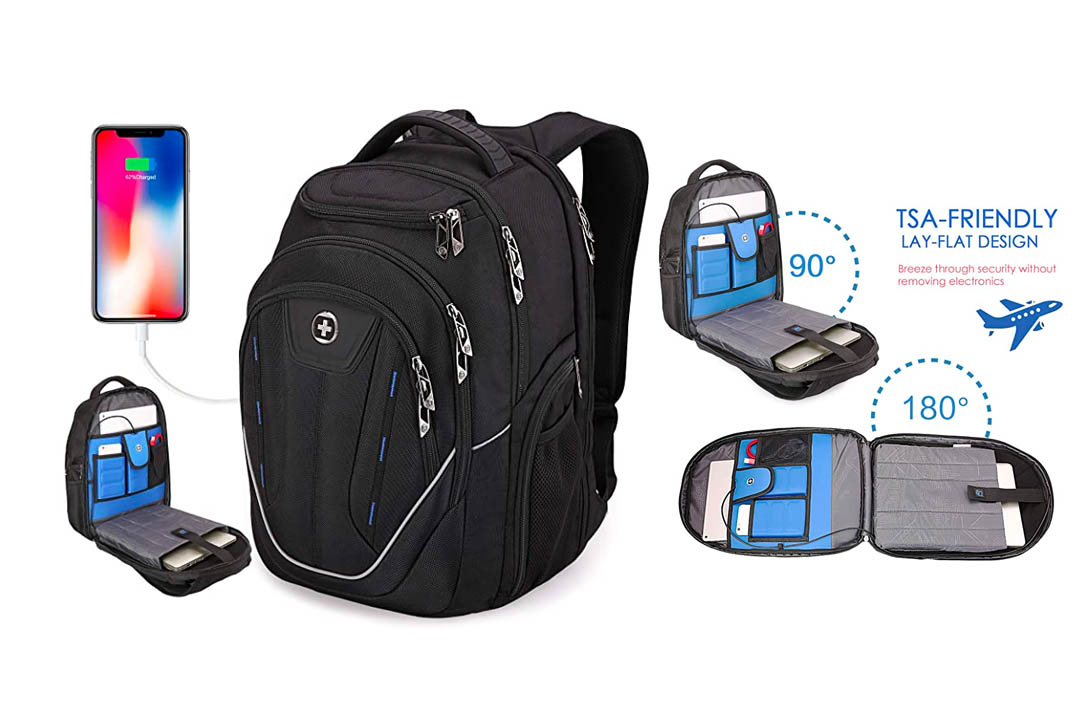 Product out of Stock!
A travel-friendly backpack, whether you are looking for a bag for traveling, hiking, or camping is this TSA-friendly backpack. It unfolds freely from 90 to 180 degrees. As a result, you can be sure to navigate through the airport security fast, and still keep your items tidy.
Adding to that, the bag features an RFID protection pocket. This pocket safeguards your personal information from theft after exposure to an RFID scanner. You can get this bag as an answer to the best water-resistant laptop backpack that is designed to last. The reason is its 1680D polyester +210D nylon that makes it durable.
Furthermore, the bag is a perfect pick for one that keeps a variety of items in an organized manner. This is because of the 15 independent pockets that allow for easy organization of smaller and larger items. Comprising the 15 pockets is a padded laptop sleeve designed for laptops up to 15.6″.
Also, there are elastic side pockets that provide a perfect spot for water bottles, and a side zipper pocket designed to ensure easy access to essentials. You can use the bag to conveniently charge electronic devices, thanks to the USB charging port located on the backpack's shoulder so that it can offer fast and easy charging.
Conclusion
The best water-resistant laptop backpack should protect your laptop from elements like water, as well as drops and impacts. Furthermore, such a bag shouldn't sacrifice style because of offering such protection. That said, I recommend that you buy one of the reviewed bags since they are durable, waterproof, and stylish. In return, you carry it anywhere with an assurance of keeping your valuables protected against the rain and snow.
Disclaimer:
VK Perfect is a participant in the Amazon Services LLC Associates Program. As an Amazon Associate, we earn from qualifying purchases made through our links. We only review products that we trust and recommend. Visit our detailed disclaimer to learn more.